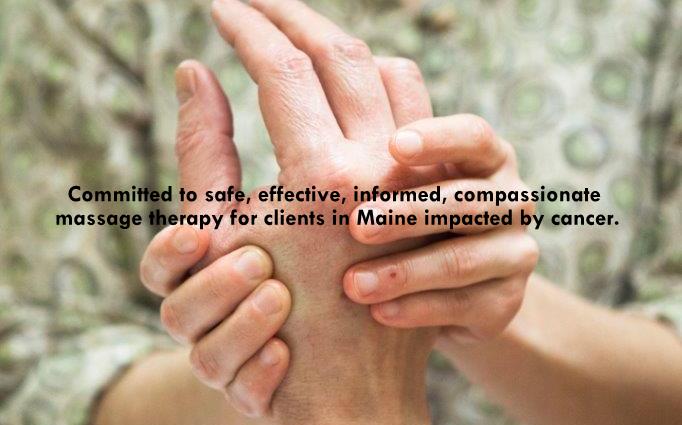 Did You Know?
Kathleen has completed over 200 additional hours of post-graduate massage therapy training in Oncology Massage and over 1000 hours of additional hands-on hospital-based oncology massage service.
This specialization allows her to work safely with clients who are living with cancer during and after cancer treatments.
Kathleen began her massage training after seeing the power that offering positive therapeutic touch in a hospital setting had on patients with HIV, cancer, and a variety of other immune system challenges. She has worked primarily with healthy clients managing stress, pain and repetitive use issues for the last 4 years, and in her 5th year her practice has come full circle. She has pursued nationally recognized trainings and completed a week long intensive internship in Hospital-Based Oncology Massage at major research hospital in OR. She volunteers weekly at a Chemo Infusion clinic at a local hospital providing skilled massage therapy for cancer patients receiving chemotherapy. She is familiar with the many ways that massage may need to be adapted to be applied safely for clients at each stage of their cancer journey.
Massage Therapists with additional Oncology Massage training will adapt for:
Fatigue - offering a session that does not demand as much of a client's energy resources
Peripheral neuropathy
Low blood cell counts
Blood clots/risk of clotting
Bone metastases
Radiation or surgery
Removal of lymph nodes
Medications
Medical Devices
Clients and Patients who experience informed massage therapy have reported:
Reduced pain and fatigue
Decreased anxiety and nausea
Improved sleep
Ease sense of isolation
Enhanced body image
Nurtured well-being
The Society for Oncology Massage is a national organization that advances the knowledge and understanding of oncology massage. Kathleen Has been a Professional Member of this organization since 2012. For more information, Frequently Asked Questions about Massage and Cancer and a national therapist locator, please visit S4OM.org.
Kathleen has also been a select provider of massage therapy services in Maine to participants of Lucy's Love Bus, and continues to refer youth living with cancer to participating practitioners of this program. Through the generosity of this amazing organization, skilled LMTs offer safe, caring massage therapy to pediatric oncology patients and the foundation covers the costs of the session. Please pass this information along to any family you feel might benefit from this great mission.
If you have any questions about how your cancer history may impact your massage therapy treatment, contact Kathleen. She is happy to answer any questions and to take the time to address your concerns and thoroughly explain all treatment options.